Thanksgiving Treats
Hang on for a minute...we're trying to find some more stories you might like.
DIY Thanksgiving foods
NUTTER BUTTER TURKEYS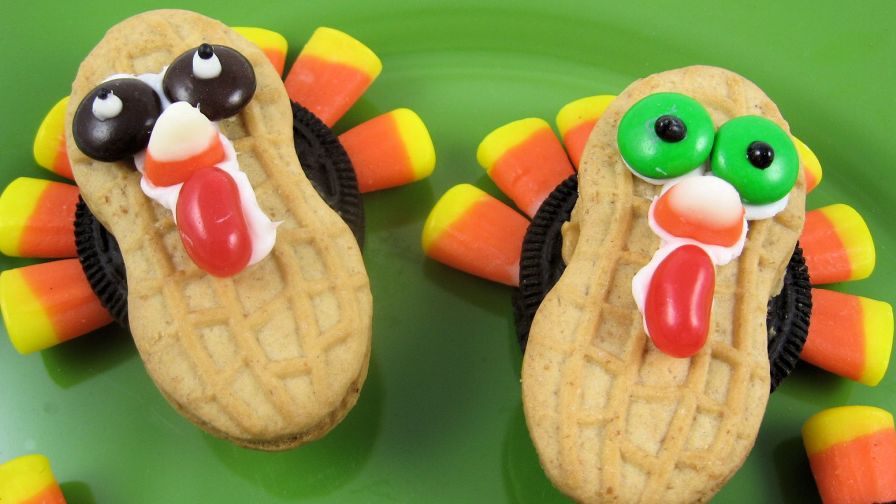 READY IN:

45 mins

SERVES:

YIELD:

UNITS:
8 

Nutter Butter sandwich cookies

8 

Oreo Double Stuff cookies

4 

ounces candy corn

16 

M&M's

8 

small red jelly beans
1⁄2 

cup white frosting

black decorating gel (in a tube)

white decorating icing (in a tube)
DIRECTIONS
Create the tail feathers: Push 7 candy corns into the sides of the double-stuff oreos.
Add the turkey body. Add frosting to a plastic bag. Snip a small piece from the corner. Pipe or spoon a dab of white frosting onto the center of the Oreo. Press a Nutter Butter cookie on top of the Oreo cookie. I had some leftover melted peanut butter chips and used that instead of frosting in this step.
Add the face: Cut 8 candy corns in half for the noses. Pipe or dab a fat "T" onto the upper area of the Nutter Butter cookie. Press two M&M eyes into the frosting. Next add the candy corn nose, then add a red jelly bean (lengthwise) below the nose.
Eye detail: (Option 1) Using a tube of black decorating gel, pipe a dot on each eye. You can then follow up with a tiny dot of white icing if you want extra detail, using a toothpick. (Option 2) Switch the colors and pipe a dot of white frosting onto the brown eyes, then add a tiny dot of black gel with a toothpick.
NO BAKE TURKEY CAKE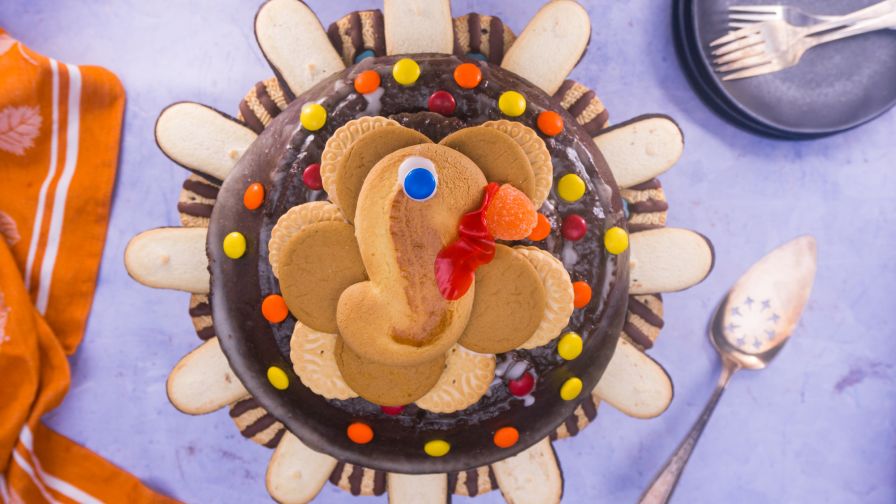 READY IN:

15 mins

SERVES:

YIELD:

UNITS:
1 

bundt chocolate cake

1⁄2 cup confectioners' sugar

7 

lemon cream-filled vanilla sandwich cookies

4 

gingersnaps

8 

fudge-striped shortbread cookies

 7 

coconut biscuits

1 

stella d'oro breakfast cookie

9 

Hershey chocolate kisses

1 

strawberry fruit roll-up
DIRECTIONS
Work on a platter or covered cardboard.
Place the Bundt cake on the platter and fill in the hole with some cookies.
Place the confectioners sugar in a ziploc bag and work in a little water to form a "glue." Snip the end off of the bag.
Place the lemon cookies and gingersnaps around the center of the cake.
"Glue" the Stella D'Oro cookie to resemble a turkey's head.
Add a large drop of "glue" for eye and add a candy.
"Glue" a candy sideways to resemble beak.
Cut fruit roll up to resemble turkey's wattle and press it in position.
Arrange cookies around the cake to resemble feathers.
Feel free to experiment!

PEANUT BUTTER PUMPKIN COOKIES

READY IN:

39 mins

YIELD:

UNITS:

1

(16 1/2 ounce) roll pillsbury create n bake refrigerated peanut butter cookies

1 

egg yolk

1⁄2 cup all-purpose flour
1⁄3 

cup orange decorator sugar crystals

14 

twisted butter flavor pretzel sticks, broken in half

DIRECTIONS

Heat oven to 350. Spray cookie sheets with cooking spray. Using electric mixer on medium speed, blend cookie dough, egg yolk and flour until well mixed.
Pour sugar crystals into small bowl. Shape dough into 28 (1 inch) balls; roll in sugar crystals. Insert 1 pretzel piece into each ball for pumpkin stem. Using the tip of a teaspoon or cheese spreader, make lines around sides for pumpkin ridges. Place balls 2 inches apart on cookie sheets.
Bake 9-11 minutes or just until set in center when touched with fingertip. Cool 2 minutes; remove from cookie sheets to cooling racks. Cool completely, about 10 minutes. Decorate with green frosting if desired.

Works cited by: https://www.geniuskitchen.com/ideas/thanksgiving-desserts-for-kids-6192?c=14756
RECIPE MADE WITH LOVE BY
"There's a Nutter Butter marathon going on at my house this fall. The inspiration for this recipe was the Crafty Kitchen. It's a project that's … 
More
YOU'LL ALSO LOVE

A Year of Fun with Nutter Butter Co..